APPLIED SELF-DEFENSE SHOOTING
(A Two Day or Four Day Course)


Formerly Steps 3 and 4




This fourteen-hour course over two or four days is a continuation of the previous Self-Defense Shooting and IDPA series.  It reviews the basics and mechanics introduced during the previous classes and then develops them further with special emphasis on self-defense applications.  Shooting on the move is developed and practiced since this is an essential skill in real-world defense. 
The need for competition as a teaching tool in readiness-preparation for an attack is explained and emphasized.  Numerous real life scenarios will be shot and critiqued so that each student will be made more aware of his individual strengths and weaknesses and may leave class with essential information to better prepare for an armed attack.  This is not a "stand still and shoot at the target" course.  "Very intense" is a common term used by students to describe this class.
Reactionary targets are employed to add stress and give the student a better understanding of the "real time" pressure of a close distance gunfight.    
Basic advice is given as to how to instruct your family members when they are unarmed and are threatened by an attacker.
This course also covers what to do if an attacker is found in the home and "gives up" prior to a shot being fired.  How to control him before the police arrive without putting yourself in more danger is covered and practiced.
Very basic CQB (Close Quarters Combat) tactics, including full-contact counter measures introduced.
Items covered include:
Safety Review
Review of Basic Concepts and Mechanics from Previous Classes
What to Do After a Self-Defense Shooting
What to Say After a Self-Defense Shooting
What NOT to Say
The Combat Mindset
The Color Coded Levels of Awareness
Drawing from Concealment is Further Developed with Speed
Controlled Pairs, Double Taps and Their Specific Applications are Covered in Greater Detail
Learn How to React -- FAST!
React to Visual Stimuli
React to Appearing and Disappearing Targets
Multiple Target Engagement with Speed is Further Developed
Shooting on the Move
Shooting from Retention While Striking the Assailant
Experiencing Stress from the Use of Reactionary Targets
Strong Hand Only Shooting
Support Hand Only Shooting
Man on Man Shooting Drills to Induce Adrenaline Flow
How to Draw when Your Strong Hand Has Been Incapacitated
How to Do Magazine Changes with Only One Hand
How to Fix Malfunctions When One of Your Hands Has Been Incapacitated
Shooting from the Kneeling Position
Verbal Persuasion & Challenges  (Verbally controlling the intruder of your home while you cover him with your firearm)
Basic CQB (Close Quarters Combat) with Full-Contact Countermeasures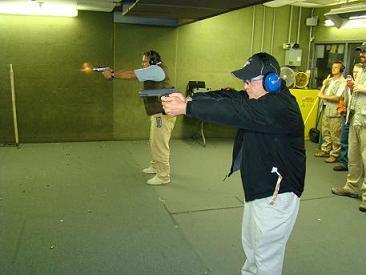 Man on Man Speed Drills Help Add Stress
and Teach Real-Time Reaction Skills

Step 4 Students React to Appearing and Disappearing Targets
Stress Helps Develop Their Draw and Reload Skills
Prerequisite:  You must have completed the Self-Defense Shooting and IDPA classes.
Required Equipment:  Please bring the following with you: 
Handgun with a minimum of 3 magazines (or speed-loaders for revolvers)
Practical-concealable hip holster (no small-of-back, fanny pack, or shoulder rigs).  This holster must permit re-holstering with the use of ONLY one hand!  (No soft nylon holsters.)  Holsters with NO safety strap or retention system are strongly recommended.
Belt-mounted magazine pouch(s) for two magazines or 2 speed-loaders

NOTE: We work closely with holster manufacturers and can help you select holsters and magazine pouches that are perfectly suited for this class as well as for competition and concealed carry.


At least five snap-caps or dummy rounds
Vest, jacket or other open-front garment that will conceal your handgun
VERY Sturdy Shooting belt (normal belts WILL NOT work)
Eye and ear protection
Note taking material
Rugged, but comfortable attire and footwear
500 rounds of ammunition
The class will conclude with a realistic home defense/street-fight scenario and will incorporate the skills taught in class.  Your performance will be critiqued and you will have a second chance to run the same scenario.


Tuition:  $299.00
Duration:  Fourteen Hours Over Two or Four Days
Ammunition:  500 rounds

Revised: 5/05/16